Construction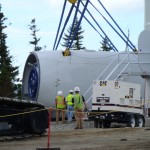 LEI certified welders performed the welding on the piping systems and Aluminum Iso-Phase Bus for Alstom Power at Bellingham, MA.
LEI prepared construction-to-commissioning system packages to include as-built isometric drawings, ASME power piping/boiler weld data records, hydro-static test results, and Quality Control NDE inspections for G.E. & ABB/Alstom Power projects.
Our Iron Work team designed and field-installed safety ladders, walkways, and access platforms for Alstom at Lake Road on three power plant units in Connecticut.
LEI provided the lead Civil structural/site manager for the Bellingham, Blackstone, Tiverton, Lake Road and Rumford power projects.