Staffing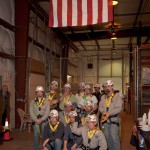 Larkin Enterprises provides professionals and skilled technicians as a direct placement to the client or as LEI employees as a staffing solution. We attract quality employees as a result of our reputation for fairness, integrity and open communication.
LEI also provides ongoing maintenance for the Electrical, Nuclear, and Petrochemical industries.
Some of the professionals and skilled technicians and craftsmen LEI can provide:
Engineers in all disciplines
Project Management
Work package planners in all disciplines
Schedulers
Field Engineers in all disciplines
Procedure Writers
Craft Supervision in all disciplines
Technical Craftsmen in all disciplines
Test Engineers
Quality Control and Assurance
Training Specialists
Start-up/Commissioning Engineers and Technicians
Key to Larkin Enterprise's success and reputation is a supervisory system that provides for a higher number of supervisors per craft employee than our competition. This results in higher work productivity and higher ongoing quality, with fewer hours spent re-working jobs that did not meet our higher quality standards.